Overview
TRUE Fitness ES700 Recumbent Bike – Available for in-store purchase in CA & WA
The newly redesigned TRUE ES700 Recumbent Bike was designed and engineered with the user foremost in mind. The TRUE ES700 Bike is manufactured with commercial-grade materials and the finest components for extreme durability. Paired with TRUE's new customized display options, quality materials and sleek design, the True ES700 recumbent bike is a must-have for the home gym.
The walk-through design on the new TRUE ES700 bike accommodates users of all fitness levels. The TRUE ES700 is one of the smallest walk-through bikes in the industry, allowing you to maximize your workout space at home.
TRUE has taken the traditional mesh seat to the next level with an all-new elastic mesh material that offers one of the most comfortable rides int he industry. This same material is used in commercial office chair applications and is custom engineered for optimal comfort and long usage.
The convenient thumb controls provide an innovative approach to user interface. All seat adjustments are easy to identify in their TRUE blue color. The wrap-around adjustment accommodates users of various sizes and makes seat customization easy to manage.
Console Options
Emerge Console – Included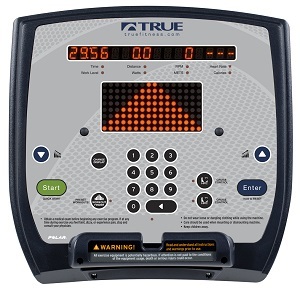 Transcend 9 Console – Upgrade