Overview
True Fitness ES900 Recumbent Bike – Available for in-store purchase in CA & WA
The TRUE ES900 Recumbent Bike is brilliantly engineered for comfort, safety, and efficiency. Its walk-through design accommodates users of all fitness levels while an ergonomic-enhanced reclining seat offers one of the most comfortable rides in the industry. The bike is self-generating, eliminating the need to position it near an outlet. Along with its small footprint, the ES900 allows you to maximize your workout space. Customize your ES900 with a choice of feature-rich consoles.
PREMIUM RECUMBENT EXERCISE BIKE
The self-generating ES900 Recumbent was designed and engineered with the user foremost in mind. The new TRUE ES900 Recumbent Bike is manufactured with commercial-grade materials and the finest components for extreme durability. Paired with TRUE's new customized display options, quality materials and sleek design, the ES900 Recumbent Bike is a must-have for the energy-conscious home gym.
COMFORT AND EASE OF USE
The walk-through design on the TRUE ES900 Recumbent Bike accommodates users of all fitness levels. Its kick plates protect step-over traction as well as step-through access. TRUE has taken the traditional mesh seat to the next level with an all-new elastic mesh material that offers one of the most comfortable rides in the industry. This same material is used in commercial office chair applications and is custom engineered for optimal comfort and long usage. All seat adjustments are easy to identify in their TRUE blue color. The wrap-around adjustment accommodates users of various sizes and makes seat customization easy to manage.
CONTROL AT YOUR FINGERTIPS
Convenient thumb controls located on the contact heart rate handlebars provide an innovative approach to user interface. Easily adjust your workout intensity on the seat-side handgrips so you can remain in your comfortable position throughout the whole workout.
FITS IN ALMOST ANY HOME GYM
The TRUE ES900 Recumbent Bike is one of the smallest walk-through bikes in the industry, allowing you to maximize your workout space at home. And with a self-generating power source, you don't have to position it next to an outlet — move it where you want it.
HEART RATE CONTROLLED BIKE WORKOUTS
TRUE HRC Cruise Control allows you to lock in on your targeted heart rate. Once your target is entered, one touch TRUE HRC Cruise Control will adjust speed and incline automatically throughout the duration of your workout to maintain your target heart rate, just like the Cruise Control in your car.
Transcend9 Touch Screen Console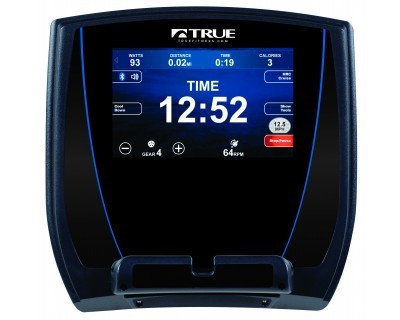 The all-new TRUE TRANSCEND
9
is the highest in home fitness technology innovation. TRANSCEND™ has intuitive navigation, programs for all levels, and all-encompassing entertainment. TRANSCEND
9
is the pinnacle of cardio consoles…the ultimate console.
Touch Screen Technology
Advanced Bluetooth Connectivity and Technology for Audio, Heart Rate, and App Communication
Wireless Heart Rate Monitoring
6 User Profiles
20 Workout Programs
Bike Mode Capability: user can convert from a level program of an indoor exercise bike to gear mode program similar to a road bike
Wahoo Run Fit App Connectivity for Workout Data Compatibility (Nike+, Garmin, Strava)
Over Molded Reading Rack and Tablet Holder
*Available for in-store purchase in CA & WA.