Overview
True Fitness Spectrum Elliptical – Available for in-store purchase in CA & WA
The Most Versatile Cardio Machine On the Market
A stepper, elliptical and runner all in one machine — that's the new TRUE Spectrum. The TRUE Spectrum provides versatility for every user with 1″ stride adjustments from 13″ to 30″, providing the most comprehensive total-body workout on the market today. With quick keys, users can go from a stepping motion to a full-stride running motion with the push of a button, to work out a variety of muscle groups in one cardio session. With this HIGH INTENSITY TRAINING machine, TRUE is revolutionizing the cardio market. Manufactured with the highest quality components and rigorous testing, the TRUE Spectrum stands up to the TRUE standards known in the fitness industry for over thirty-four years.
Heart Rate Control
The TRUE Spectrum is equipped with a digital contact heart rate monitoring system as well as a Polar® wireless telemetry system to assist users in maintaining their optimum heart rate and maximizing workout results.
One touch HRC Cruise Control™ is also included, which allows the user to "lock in" on a specific target heart rate. Once the target is set, TRUE HRC Cruise Control™ will adjust speed and incline automatically throughout the duration of the workout to maintain the targeted heart rate (operates just like the Cruise Control in your car).
CONSOLE OPTIONS
Emerge (Included)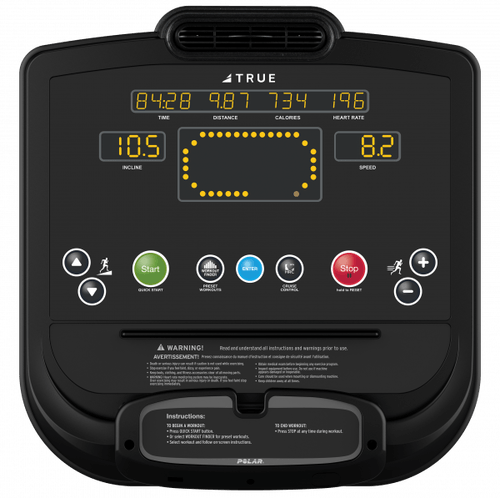 The TRUE EMERGE CONSOLE has a simplistic design that is inviting and offers easy navigation. EMERGE appeals to those users who want to walk up to a TRUE machine and quickly start their workout. EMERGE offers advanced simplicity to meet the needs of every level of user.
More features:
Orange LED display
Compatible with TRUE treadmills, bikes and ellipticals
Pre-programmed workouts from fitness experts
HRC Cruise Control
Heart Rate Control Programs
ESCALATE 9″
TRUE's ESCALATE 9″ CONSOLE has an intuitive design that allows users to enhance their workout with more programs and basic levels of audio entertainment with optional 900 MHz wireless.
More features:
9″ Color Active Matrix LCD screen
Compatible with TRUE treadmills, bikes and ellipticals
Dozens of pre-programmed workouts
Bluetooth audio connectivity
HRC Cruise Control
Fitness Test
Envision 16″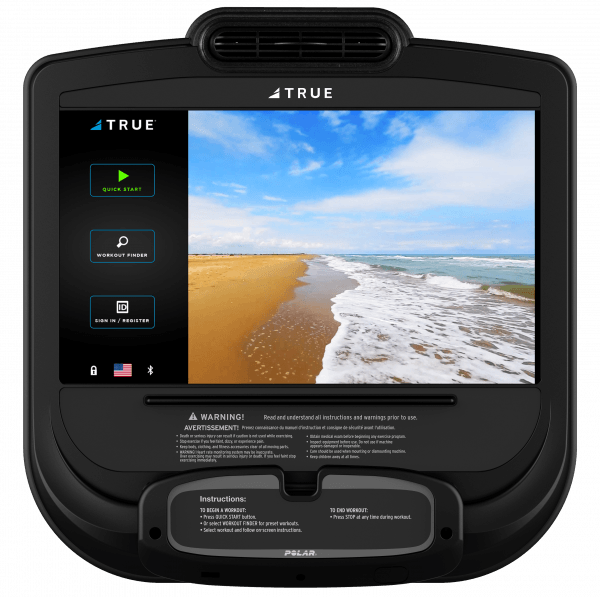 The ENVISION 16" LCD TOUCHSCREEN CONSOLE provides users an interface with a contemporary design and intuitive framework. Exercisers can easily track their data, discover workout selections and enjoy integrated technology and entertainment. With these options, a built-in cooling fan, and tablet holder at their fingertips, gym members will enjoy both exercising and your facility even more. ENVISION can also be further enhanced with COMPASS® TRUE's revolutionary fitness software.
Add COMPASS for full real-time asset management for all equipped machines, while trainers can use it to engage with members and provide them with more tools to reach their fitness goals. And members can even sync with COMPASS to migrate their fitness preferences and data to any COMPASS-equipped machine they use.
More features of the Envision Console:
Compatible with TRUE treadmills, ellipticals and bikes
Built-in workout programs to help users meet their goals
Customizable homescreen to promote your brand and deliver messages
Easy access to entertainment and web content
Bluetooth and Polar device compatibility
Compatible for Apple® and Android™ devices and apps, like Wahoo RUNFIT
Real-time asset management with usage reporting and notifications through ECOFIT®
Outside Interactive® and RunSocial® integration for exploring famous locations and courses