Description
BODY SOLID # 1 AUTHORISED RESIDENTIAL AND COMMERCIAL DEALER NATIONWIDE 
FEATURES
BODY-SOLID FUSION 600 PERSONAL TRAINER | F600 FEATURES
New curved, design forward aesthetic
Smaller footprint: 72" x 52" x 82.5" tall
50mm x 100mm 11 ga oval tubing
6mm upper support plates
4 position Biangular Press arm with ergonomically designed multi-position handles
Seated leg extension / leg curl with pivoting rollers
Chest supported mid row arms
Synchronized articulating functional training arms with range extending from upper ab exercises to side accessed workouts
Low row positions
Lat pull down with wide groove pulleys
Telescoping backrest with multiple position cushion
Gas assist telescoping seat
Two Pre cabled accessory attachment points
High-density foam handle grips and chrome endcaps
Weight stack shrouds
Optional side pulley covers
The Fusion 600 has a single-stack, multi-function approach to home gym design that offers you an amazingly versatile workout. Isolate individual muscles or introduce functional training into your routine to establish and sustain improved coordination, balance and stability. Whether you configure your Body-Solid Fusion 600 gym to include a lat pulldown, seated row, leg curl, leg extension (or any combination of stations and accessories), form and function converge to provide you with balanced, biomechanically efficient upper and lower body development. Body-Solid is recognized worldwide as a leader in home gyms and commercial strength training equipment. Over 5 million customers are enjoying the results of strength training in their everyday lives.
Features:
Press Arm: Body-Solid's revolutionary Bi-Angular press arm that generates 25% more muscle interaction for better results. 4-position standard press arm with ergonomically designed multi-position handles.
Leg Extension: With pivoting rollers that provides a full range of motion and allows you to feel your quads being worked through the entire range of movement.
Leg Curl Station: Lets the user develop both hamstrings simultaneously from a comfortable, seated position.
Training Arms: Synchronized articulating functional training arms with range extending from upper ab exercises to side-accessed workouts.
Accessories: 2 pre-cabled accessory attachment points that enable you to configure your gym to be as individually unique as your personal goals and routines demand. Workout Placard with 20 exercises examples included.
Design: Superior engineering and construction backed by the Body-Solid guarantee to last a lifetime.
Specs:
Weight Stack: 210 lbs (95.5 kg)
Weight: 685 lbs (311 kg)
Dimensions: 74″ L x 51″ W x 82.34″ H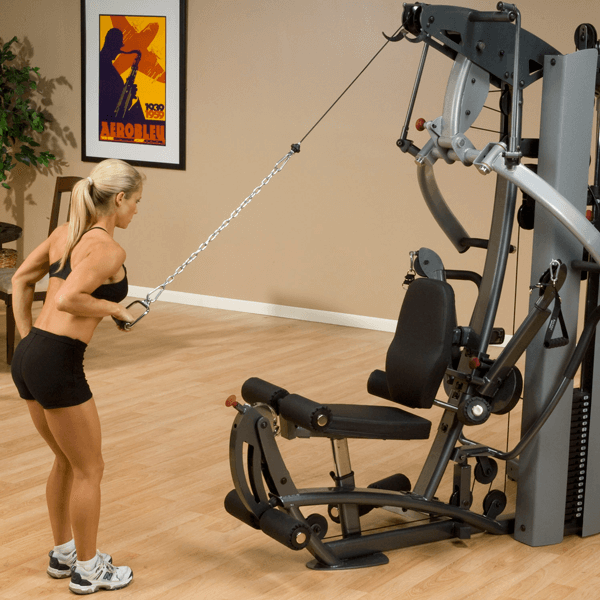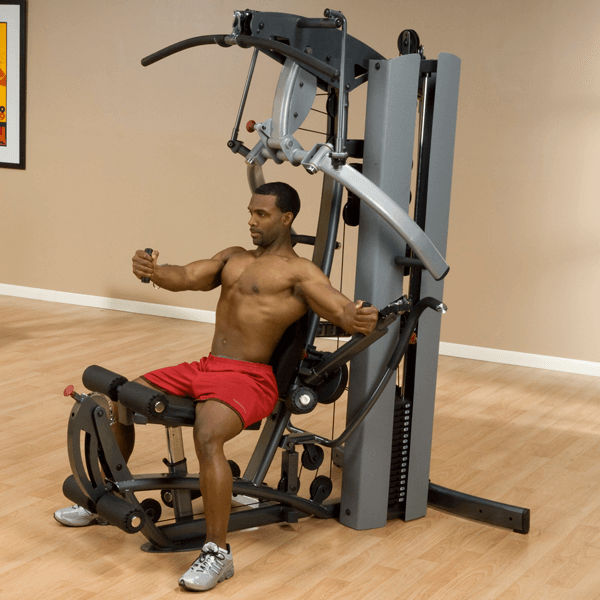 FRAMES:
All Body-Solid frames feature continuous, four side welded construction instead of the typical 2-side welds that have become common in the industry. The Fusion 500 features 50mm x 100mm 11 gauge oval tubing and 6mm upper support plates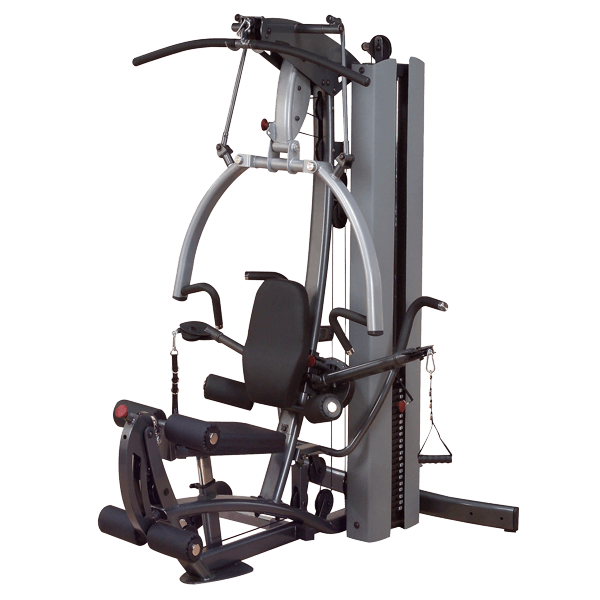 DURAFIRM™ PADS:
Our exclusive DuraFirm Pads are tear-resistant, extra-thick and ultra comfortable. We use the highest density foam in the industry for a lifetime of support without bottoming out.
FINISH:
An electrostatically applied powder coat finish protects all Body-Solid fitness equipment. This is the same process used on industrial machinery because of its durability. It resists cracking, chipping and corrosion and makes cleaning a breeze.
PULLEYS & CABLES:
Fiberglass reinforced nylon pulleys are precision-matched to our cable diameter and revolve on seated ball bearings that never need maintenance and provide a lifetime of friction-free performance.
BI-ANGULAR:
The Bi-Angular press arms of the Fusion 600 guide you through the optimal natural range-of-motion while applying resistance from two directions simulaneously. This smooth, fluid, multi-directional resistance system automatically produces 25% more muscle interaction by eliminating the ability to rest your chest muscles. Thus, you increase the exercise intensity through a full range of safe, convergent, multi-joint, multi-plane movement patterns.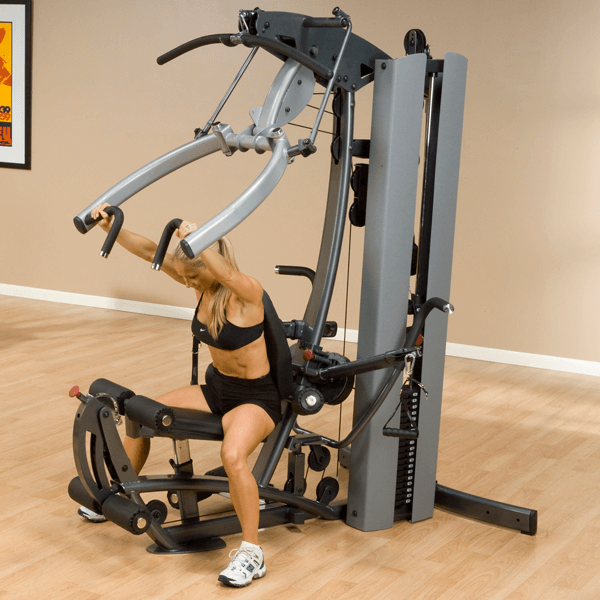 FUNCTIONAL TRAINING:
Functional Pulleys allow users to perform a variety of exercises that recruit stabilizer muscles to exercise movements such as pec flys and converging presses. Featuring adjustable arms to allow you to change the angle of reistance 160 degrees, in 20 degree increments.