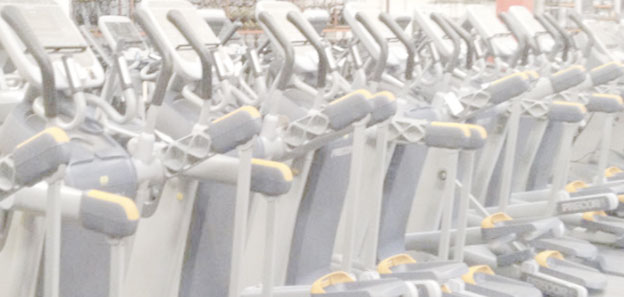 We offer Wholesale Gym Equipment direct from the big brands like Precor, Life Fitness and Hammer Strength.  Over the last 20 years Gym Pros has become one of the most renown brands in the fitness equipment industry and we pass the savings down to you.  It obviously makes a lot more sense to purchase used and certified remanufactured exercise equipment from wholesale distributors as opposed to spending $10K+ for a brand new commercial piece or a lightweight residential version of your favorite Elliptical or Stairmaster.
You can purchase in bulk from Gym Pros for larger discounts on a gym equipment package or you can purchase a single piece.  We have great relationships with all the major brands and are able to get wholesale discounts from the top fitness companies like Life Fitness, Precor and Many More:
Ordering Wholesale Fitness Equipment from Gym Pros
A fluid inventory of hundreds to thousands of commercial ellipticals, treadmills, stairmasters and strength pieces makes Gym Pros one of the top wholesale fitness equipment suppliers in the market.  Let us know your needs and the facility and our fitness equipment experts can help assess and determine the right pieces for your membership – Between 1 – 10,000 – we've done it all and can cater to all crowds regardless of volume or fitness level!
Wholesale Used Gym Equipment Package Examples
Wholesale exercise equipment packages can include a specific manufacturers line like the Life Fitness Elevation Series or we can mix and match between brands.
One of our most popular packages include multiple Life Fitness Elevation Series Treadmills, Precor AMT Trainers and a Gauntlet Stairmaster as your basic cardio pieces.   A set of dumbbells, FID Bench and a functional trainer can round out the strength side and this is perfect for a small home studio or hotel.
Featured Wholesale Gym Equipment (Remanufactured)
At Gym Pros we consider "Wholesale" to be a minimum of 5-7 units where we are able to receive higher volume discounts and price savings from bulk shipping costs. We do offer financing and leasing programs so you do not have to pay everything upfront and can outfit anything from the United States to an International Market.
Call us today to inquire about your facilities needs and we can match our current inventory or go factory direct to your facility.  White Glove Freight or LTL service available as well as International Shipping.  Wholesale Fitness Equipment up to 70% off.  Call Gym Pros Today!