Precor AMT - Adaptive Motion Trainer
The Precor AMT (short for Adaptive Motion Trainer) is an incredibly versatile unit that combines multiple cardio benefits into one machine. It allows users to run, jog, walk, and climb, adapting to their stride length on the fly. This makes it suitable for a wide range of members and fitness needs.  Many exercise enthusiasts confuse the AMT model with an elliptical machine but they are definitely different!
People expect a personalized workout experience that is tailored to their unique needs and preferences. The Precor AMT is ideally suited to this purpose, with innovative technology that enables it to respond to the person using it. The Adaptive Motion Trainer intuitively adjusts its motion based on the stride length of the user. This can vary from zero to 36 inches (91cm), accommodating a wide range of user heights and training preferences. The AMT 885 and 835 models also feature patented Open Stride technology. This enables users to adjust the stride height as well as the length, from 6.8 to 10 inches (17 to 25cm).  The customizable and adjustable stride length  means no two workouts are ever the same, so there's no chance of getting bored with this piece of equipment.
The Precor AMT delivers a highly effective, low impact, dual action total body workout that torches calories like no other. Whether your members want to lose weight, improve their cardio fitness, or perform high intensity interval training (HIIT), the AMT offers it all with heart rate monitoring. The moving arms and variable stride combine to deliver an all-over workout, yet with minimal joint impact on each resistance level. This makes it the ideal total body cardio for users who aren't able to run on treadmills due to joint injuries.
The Adaptive Motion Trainer also features the smooth, fluid motion that's a hallmark of Precor equipment. Their design philosophy is centered around user experience and biomechanics, so their products are always enjoyable to use and anatomically accurate. Click the models below to learn more about their specifications.
Precor Commercial AMT Models
Showing all 9 results
We offer three Adaptive Motion Trainer models in our range of Precor equipment; the AMT 885, AMT 835, and AMT 100i. All three Precor adaptive motion trainer amt models offer adaptive stride technology, enabling users to quickly switch from long strides to short strides (36 inches +) without the press of a button. The 885 and 835 models also include variable stride height, whereas the 100i model features a fixed height. All models offer a range of stride paths and upper and lower body workouts. There are also some differences in the workout programs on offer. Here's a rundown of the three different models available…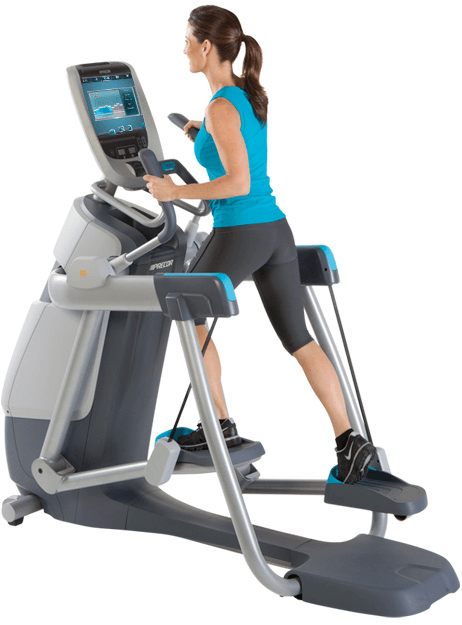 The AMT 885 is Precor's top-of-the-range adaptive stride model for both upper and lower body.  The 885 features capacitive touch screen technology. The built-in P80 console can be connected to the internet, which opens up a range of additional features such as remote software updates and service data collection. This shows site navigation and can be uniquely effective to offering a more personalized experience and preventing boredom.
The P80 console runs Preva software that's designed to make exercising easy and intuitive. It includes a revolving 'Workout of the Day' which encourages users to try new programs, as well as classic TV and web browsing capabilities along with heart rate sensors and time remaining.
This model offers 19 preset programs, including Fat Burner, Mountain Peaks, and different interval options. It also features the widest range of foreign languages, an especially important aspect if you run a facility with international members. In addition to English, users can select from Chinese, Danish, Dutch, French, Finnish, German, Italian, Japanese, Korean, Norwegian, Polish, Portuguese, Russian, Spanish, Swedish, and Turkish.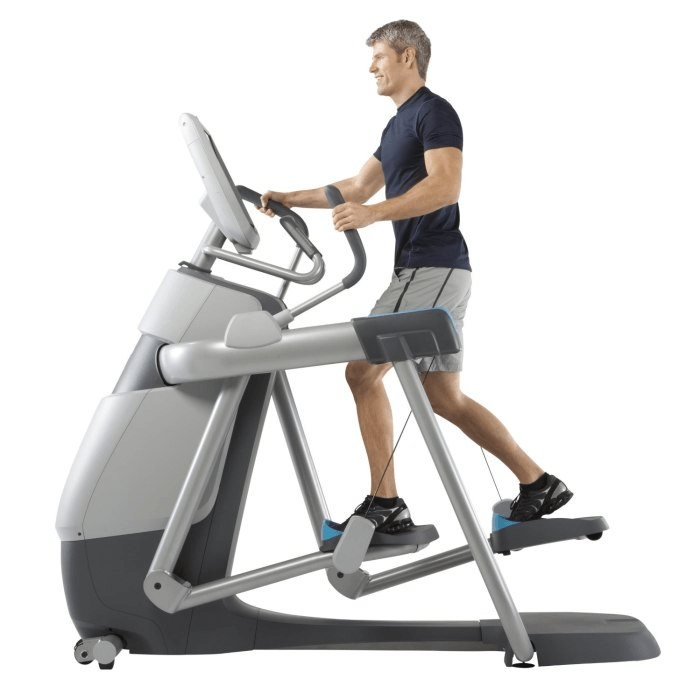 The AMT 835 features the same high-spec base as the 885 model, with a streamlined LED console. This means you get all of the fundamental features such as Open Stride technology and heart rate compatibility, for a lower price than the touch screen model.
The 835 option offers 6 preset programs, including Interval, Weight Loss, and Heart Rate Zone training. The LED console is simple and easy-to-use, with only the essential fitness readouts to keep users on track. These include 20 of the most important workout statistics, such as Resistance Level, Open Stride Level, Distance, Calories, Time, Watts, and METS. It also includes a Stride Dial which gives a visual indication of the user's current stride length and whether they can push it any further.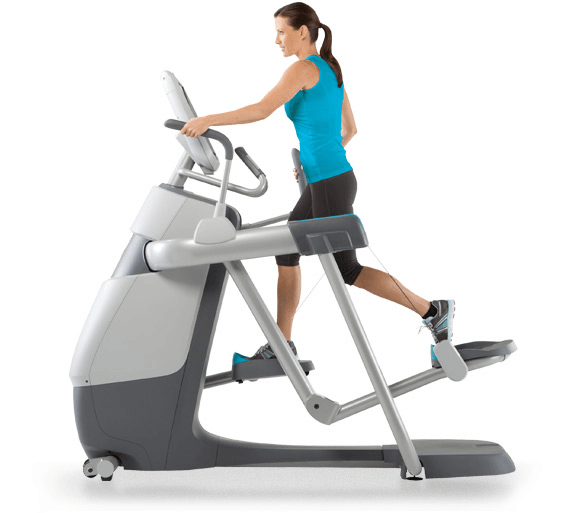 The Precor AMT 100i is the original Adaptive Motion Trainer and features striking yellow accents. It has an adjustable stride length that can vary from zero to 27 inches, making it suitable for a wide range of user heights. This model features five programs and all the fundamental display readouts, including heart rate, calories burned, and distance. It also features a visual stride dial and tap controls.
If you're considering different cardio options, then the Precor AMT should be top of your list. Commercial fitness equipment at it's finest offering a range of stride paths and a more personalized experience. combines the high-intensity long stride of a treadmill, low impact motion of an elliptical or recumbent bikes, and vertical movement of a climber into a single machine. It's the most versatile piece of equipment that's currently available on the market and supports a wide range of training goals. Browse the models to learn more about their specifications or contact our knowledgeable team for personalized advice.