Description
Body-Solid G1S Home Gym
The Body-Solid G1S packs a lot of power, strength and durability into the smallest footprint available. Centered on a 160 lb. sectorized weight stack, this gym allows over 40 toning, trimming and strength training exercises. From the multi-grip press arm to the contoured, adjustable seat pad, the G1S gives you more for your money than any other home gym on the market. Body-Solid G series gyms use the highest manufacturing standards and the finest quality pulleys, cables, and upholstery. The entire gym is backed by the best warranty in the industry, the Body-Solid In-Home Lifetime Warranty that covers everything. Forever. Period.
*Shown with optional aluminum pulleys and Red Premium Weight Plates
Easy to use, space saving, no-cable-change design.
Traditional press bar is biomechanically designed for maximum chest concentration and outstanding muscle development.
DuraFirm™ pads with lumbar support provide ultimate comfort and prevent lower back strain.
All stations feature self-lubricating bronze bushings with biomechanically accurate pivot points for friction-free shaft rotation.
Telescoping, chrome plated seat post for quick, smooth adjustments and proper body positioning.
2,200 lb. tension strength, military spec, steel aircraft cables with nylon sheath provide durability and low maintenance.
4½" pulleys are impact resistant fiberglass reinforced nylon with precision machined steel ball bearings for prolonged cable life, smooth movement and maximum durability.
Heavy duty 12-gauge steel construction provides ultimate strength, function and durability.
Tough, durable, electrostatically applied powder coat finish ensures against scratching, chipping and peeling.
Includes lat bar, straight bar, ankle strap, ab / triceps strap, Total Body Workout™ DVD, and convenient water bottle and towel holder.
5 STATIONS
Lat Pulldown / High Pulley Station: Perform lat pull downs, triceps press downs, cable crossovers and many more high pulley exercises. Adjustable hold down pads stabilize your body for lifts beyond your body weight. Unique versatility allows you to increase the strength and endurance of your back muscles.
Ab Crunch / Mid Pulley Station: Develop awesome abs and terrific triceps quickly at this strength training station. Biomechanically engineered for smooth, comfortable, full range of motion crunching movement. Specifically designed for firming, flattening and isolating the entire abdominal area.
Leg Extension / Leg Curl Station: When you' re ready to build muscular legs and stronger knee joints, this leg developer is ready to help you meet your goals. Biomechanically accurate pivot point ensures ergonomically correct body positioning for natural and complete hamstring and leg biceps development.
Chest Press Station: Biomechanically designed for maximum chest concentration and outstanding muscle development. Comfortable, multi-position handgrips focus on distinct areas of the chest and triceps. Adjustable seat height assures you of a perfect fit.
Seated Row / Low Pulley Station: Essential for well-developed backs, seated row exercises build depth in the middle back and train the hard-to-reach lower lats. Low pulley swivels smoothly and fully to provide accurate resistance for cable curls, upright rows, shrugs, leg abduction, leg adduction and much more.
160 Lb. Alloy Weight Stack: Advanced alloy weight stack plates are machine drilled to exact specifications and employ state-of- the-art nylon bushings for super smooth and quiet operation.
Optional Accessory
GAP1 Aluminum Pulley Upgrade – G1S Gym – $315
DIMENSIONS
Assembled Weight:

329lb / 149.23kg
 

Assembled Dimensions:

Length

Width

Height

 
55.00in / 1,397.00mm
47.00in / 1,193.80mm
83.00in/2,108.20mm
 

Package Dimensions:

Length

Width

Height

 
46.85in / 1,189.99mm
12.20in / 309.88mm
9.06in / 230.12mm
 

Volume

Gross Weight

 
3.00 ft3 / 0.09 m3
71.70lb / 32.52kg
 

Package 2 Dimensions:

Length

Width

Height

 
46.06in / 1,169.92mm
48.28in / 1,226.31mm
6.30in / 160.02mm
 

Volume

Gross Weight

 
8.11 ft3 / 0.23 m3
74.10lb / 33.61kg
 

Package 3 Dimensions:

Length

Width

Height

 
80.32in / 2,040.13mm
5.71in / 145.03mm
5.12in / 130.05mm
 

Volume

Gross Weight

 
1.36 ft3 / 0.04 m3
37.40lb / 16.96kg
LIFETIME WARRANTY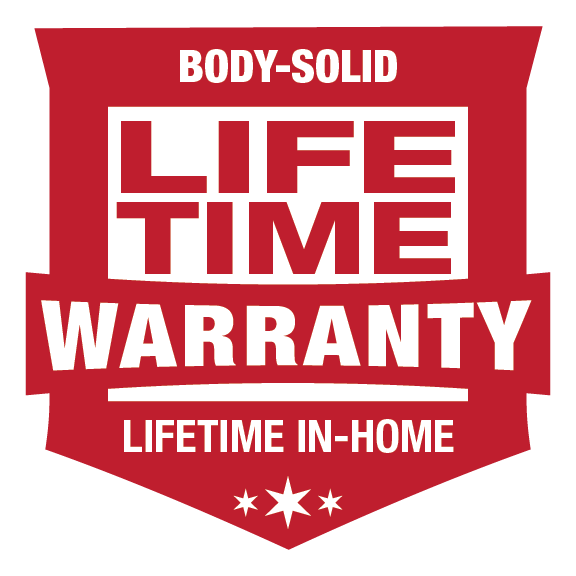 This Warranty applies only in the United States to products manufactured or distributed by Body-Solid, Inc. (Body-Solid) under the Body-Solid brand name. The warranty period to the original purchaser is:
BODY-SOLID warrants the In-Home Warranty as follows:
LIFETIME: Frame & Welds
LIFETIME: Pulleys, Bushings, Bearings, Hardware, Plates, Guide Rods
LIFETIME: Cables, Upholstery, Grips (Normal Wear)
Body-Solid warrants that the Product you have purchased for non-commercial use from Body-Solid or from an authorized Body-Solid reseller is free from defects in materials or workmanship under normal use during the warranty period.
Your sales receipt, showing the date of purchase of the Product, is your proof of the date of purchase.
This warranty extends only to you, the original purchaser. It is not transferable to anyone who subsequently purchases the Product from you.
It excludes expendable parts such as paint and finish.
This Warranty becomes VALID ONLY if the Product is assembled / installed according to the instructions / directions included with the Product.