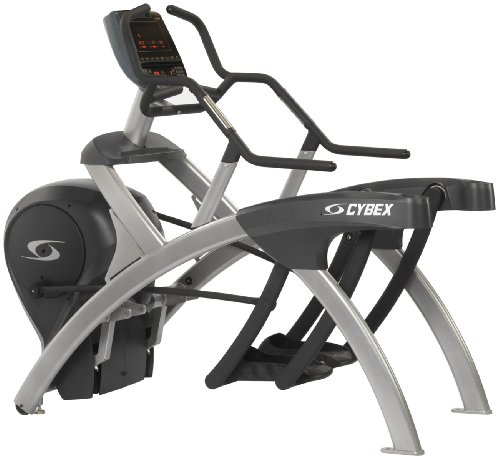 Creating a comprehensive Cybex 750A review isn't just about what we think of the product – it's about what customers say when they purchase. Cybex is renowned for the biomechanics of their equipment and have a strong reputation for designing high-level products. It's therefore, no surprise that customers tend to be fanatical about their cardio and strength units because they create quality that you can really feel as you move.
So, what do customers appreciate about the Arc Trainer and who is it ideal for? In this Cybex 750A review, we break down the details, so you can decide if it's right for your needs.
A Firm Customer Favorite
When collating feedback for this Cybex 750A review article, the first thing that struck us is just how passionately customers feel about the unit. They frequently talk about how much they love it and that it's quickly become their new favorite machine. It's tough to design a piece of equipment that elicits this kind of emotional response, especially in people who don't necessarily like exercising. This says a lot about how much people enjoy using it and the fun that it brings to their workout routine.
For people who view cardio as a chore, the Cybex 750A can add variety and genuine enjoyment. Customers have commented that it's 'by far the best thing next to plain old running' and 'hits all the right spots for the legs'. People even say that they look forward to using this machine and appreciate the small design details like the built-in personal fan.
Pushes You Past Your Comfort Zone
The Cybex 750A is the ideal machine to help you push beyond your usual comfort zone. It burns more calories than a traditional elliptical and will quickly increase your heart rate into the fat burning zone. The great thing about this is that you don't feel like you're working that hard, even though your body actually is. Your perceived rate of exertion is lower which means you can train for longer!
The fixed arms aid stability and enable you to focus training on your lower body and core. There are varying levels of resistance that you can customize to your own needs and hand grips provide the exact support you need to maintain correct form when you start to fatigue.
Minimal Pressure on Your Joints
We couldn't put together a comprehensive Cybex 750A review without discussing the joint impact benefits. Some cardio machines exert forces on the joints, just like walking, skipping, or running outside can. A normal amount of stress is good for your bones and actually strengthens them, but if you're suffering from a joint injury then even a small amount of impact can aggravate it.
Since Cybex are renowned for their biomechanics, it's no surprise that this elliptical minimizes pressure on the joints, making it perfect for those with ankle, knee, or neck injuries. It also features patented 'Same Side Forward' motion which creates optimal posture alignment and reduces back fatigue. Plus, the awesome range of motion means you can use it for running, stair climbing, and even biking!
Cybex 750A Review Summary
This model is a commercial grade Arc Trainer which means it's suitable for busy environments like health clubs and fitness studios, as well as home use. It's a firm favorite with both exercisers and gym customers, who appreciate the injection of fun and variety into aerobic workouts. If you're someone who doesn't enjoy cardio but knows it's important, then the 750A Arc Trainer is a great option.
This machine is designed to push you past your comfort zone and get results you didn't think possible. The low-impact motion means you won't realize just how hard you're working, making it easier and more enjoyable to reach your fitness goals. This unique motion also makes it suitable for people with joint injuries, as well as those are overweight or obese. Use it to run or climb indoors and watch the calories get burned away.
This Cybex 750A review is intended to highlight the most frequent feedback we hear about the Arc Trainer. If you'd like to learn more about the product, then check out its key features here. Alternatively, get in touch with one of our team and we'll be happy to answer any questions you may have.