Simply Fill Out the Form to Submit Your Ticket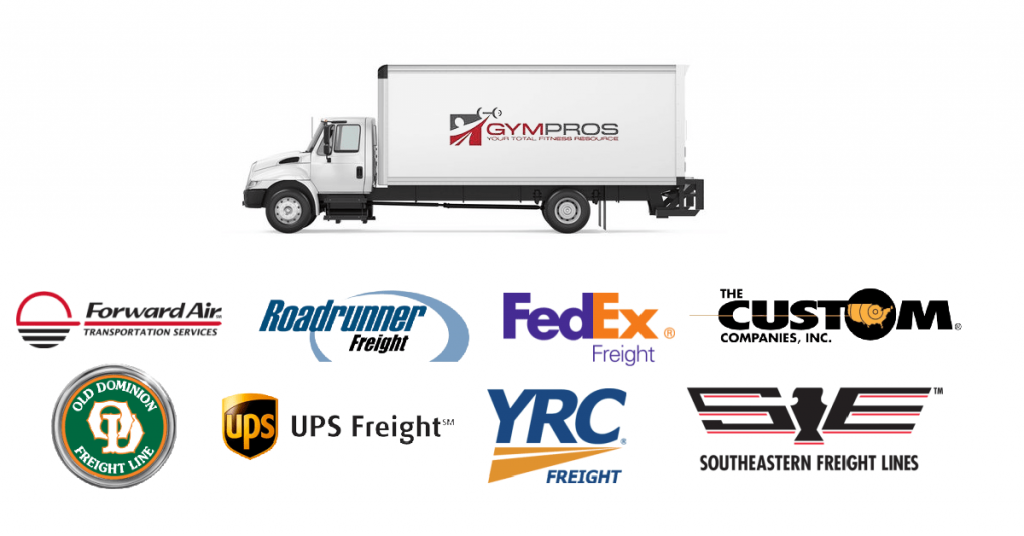 SHIPPING AND DELIVERY Q & A's
Gym Pros works closely with its partner carriers to provide the best customer service experience possible. Below are the most frequently asked questions and answers about the shipping and delivery of your order. If you have any questions not listed below, please contact us at support@gympros.com.
What is LTL Freight Shipping?
LTL shipments can be handled multiple times while in transit at different terminals, hubs, and dispatch centers. This is the most inexpensive way to ship large products, although this shipping method tends to have the longest transit time. This is the most common option offered at the point of sale.
Can I expedite my shipping?
Yes, Gym Pros works with multiple shippers who offer numerous shipping options ranging from next-day delivery to 3-5 day shipping for an additional cost. If you would like more details on these options, please feel free to contact us at support@gympros.com.
All Certified Pre Owned, Remanufactured, and Refurbished equipment has an estimated shipping and delivery lead time of 21 – 48 business days from the order date. New products have an estimated shipping and delivery lead time of 14 – 28 business days from the order date.
How are my products shipped?
Remanufactured or Pre Owned products are strapped to a wooden pallet, boxed, and wrapped in stretch wrap. New products are shipped in the original manufactures packaging.
My product shows it shipped. Why hasn't my shipment arrived?
If your order has shipped and you have not received a call from the carrier, we recommend calling them and requesting a live update by referencing the tracking number provided. Gym Pros is a third-party shipping broker who coordinates shipping and delivery on behalf of the customer. Once a product has shipped, Gym Pros cannot contact the shipper on your behalf. Delays outside of anyone's control can happen due to unforeseen weather conditions and potential mechanical issues with trucks. We highly recommend contacting the carrier for updates on your order.
Will I be notified of when my order will be delivered?
Before the freight carrier makes a delivery, they will call to set up a delivery time window. Most freight carriers will provide a 6-8 hour window and deliver only Monday – Friday.
How is my order delivered?
All deliveries are curbside. The LTL Shipper will deliver the product to the front of the property.
Are assembly and installation offered with my purchase?
A common misconception with residential LTL shipping is that the freight carrier is a moving company. This is false. LTL freight carriers are not white glove movers. Because of liability issues, LTL carriers and their drivers cannot enter a residence under any circumstances. However, an additional service fee can be paid for inside delivery which is offered by a third-party company as we do not offer this service.