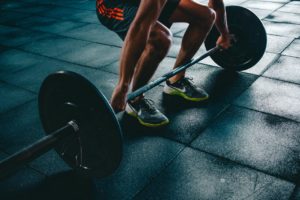 So you've decided to build your home gym? That's an excellent idea! You no longer have to deal with your crowded local gym with grabby machine handles and prying eyes. The best part about having a home gym is that it's a surefire way to eliminate all the excuses you may have about staying fit.
Picking the right gym equipment is the very first step towards a super awesome home gym. Your first inclination, of course, is to purchase residential gym equipment since the gym will be in your home. However, to get the most out of your investment, you may want to consider purchasing commercial gym equipment instead.
What makes commercial gym equipment better over residential equipment? In this post, we'll look at the benefits of commercial gym equipment and why they will serve you better in your home gym endeavors.
Commercial Gym Equipment is More Comfortable
If you feel comfortable while working out, you are surely likely to look forward to doing it again. Comfort is essential during fitness exercises, which is why so much effort goes into the makings of superior fitness equipment.
Gym rated equipment is more comfortable and highly durable compared to home fitness equipment. Home fitness equipment may look exponentially appealing, both cosmetically and financially. The glaring truth is that a majority of residential gym equipment is not as well built as commercial gym equipment.
Understandably, most homeowners decide to go with home gym equipment because commercial gym equipment seems to be heavier, bulkier, and hence more expensive. On the other hand, residential equipment is much smaller and lighter.
Despite these facts, the tangible benefits you are likely to get from commercial rated equipment is far greater than you would with residential. Comfort is one of those benefits since they are of higher quality.
Premium Bio-Mechanics
There is a much more detailed analytic and comprehensive approach taken in the manufacture of commercial gym equipment compared to small and light home gym equipment. You'd be surprised at all the over-hyped electronically handicapped equipment currently flooding the fitness industry.
Most of the equipment being sold online may appear to be great deals given the low prices, but they also come with a high rate of breakdowns.
High Structural Integrity
Commercial gym equipment designed for heavy daily usage comes with certain features you may not find in residential equipment. These machines have a higher capability to withstand high usage wear and tear. They are designed with such fantastic quality that they can withstand up to 400 pounds while home gym equipment can barely withstand 200 pounds.
Commercial grade equipment has thicker steel framework, bigger footprints, and heavier parts. These qualities allow them to last so much longer than residential gym equipment.
Equipped With the Latest Tech
Commercial equipment comes equipped with user statistical feedback and programming, such as heart rate and similar informative statistics. Most residential fitness equipment don't come with as many interactive technology features that will help you maximize your workout regime.
A Wider Range
One of the most significant reasons to choose commercial grade gym equipment over residential machines is the wide range available. Commercial fitness equipment manufacturers tend to have a larger selection of machines when it comes to designs and quality. You may even find manufacturers that are willing to customize equipment to your needs.
What Do You Consider When Buying Commercial Home Gym Equipment
Now that we have established that you need commercial home gym equipment and not residential, how do you find the right ones? There are several things you must consider, such as your budget, space, fitness goals, among others.
Your Fitness Goals
Rule number one before purchasing any gym equipment is to evaluate your goals, make sure you'll actually use what you get, then make a decision. You see, it's so easy for you to think you need a piece of equipment, such as a treadmill, despite the fact that you never run. Several weeks after purchase, you may just have expensive equipment sitting there unused and simply gathering dust.
Consider whether you could get one piece of equipment to help you meet your goals or you need several of them. The ideal idea is to go to a gym and try out the equipment first. You'll find out what you like most and what works for you, hence once you make a purchase, it will be a worthy investment.
The Space You Have
Don't underestimate the size of the fitness machines. You may purchase a piece of equipment only to realize that it's impossible to fit it in your basement or garage. You may have to call in the professionals to take it apart and reassemble it inside the house, which will be an additional cost.
Your Budget
Commercial home gym equipment is relatively more expensive, but you can still build your home gym on a budget. This does not need to be a financial burden, and you may even consider getting used equipment instead. If you buy at the right time, you could strike incredible deals with people who bought them and made them coat hangers.
Ease of Use
You don't need an overly complicated piece of equipment for your home gym. Be sure you know how to operate it or that it at least comes with instructions. Check whether it's self-powered, how eco-friendly the console is, and all the tech features it comes with.
The Standard and Quality
Modern fitness equipment is very technical and contains moving parts. Check if all these parts are of high quality and that they move not just easily, but quietly as well, especially when you choose to purchase used equipment. Be wary of under-priced machines that may break down during use because your safety should always come first.
How Comfortable It Is
Are the seats padded? Do the handles and bars offer a comfortable grip? Is the machine height adjustable? Don't underestimate the ergonomics of fitness equipment. Getting a backache while working out beats the whole purpose of working out anyway.
There You Have It!
Now you know what makes commercial home gym equipment so much better than residential gym equipment. It goes without saying that you should look for warranties and any inclusive maintenance offers during purchase. Check for availability of spare parts as well. For more in-depth information about fitness equipment, please check out our website.