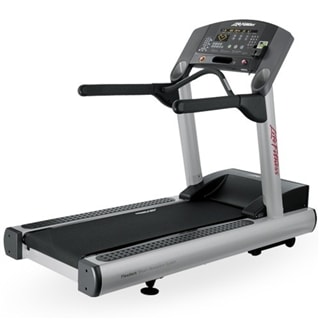 Life Fitness is renowned for the quality of their cardio equipment. For decades they've been the industry leader, producing solid commercial units at a range of different price points. Their treadmills, in particular, are known to be the best in the business and are the yardstick against which all other treadmills are compared.
The CLST Integrity Series treadmill is one of their entry-level options that offers quality manufacture at an affordable price. In this article, we review it in detail so that you can decide whether or not it's right for you.
Highly Durable
The CLST Integrity model has been around for a few years which means it's been battle-tested by hundreds of gym operators and private owners across the country. The feedback that we hear most consistently is that people are impressed with its durability. These units last for a long time and rarely have maintenance or breakdown issues. They wear well over time so that customers who buy refurbished models comment that they look like new. Even high-traffic clubs and those that open 24 hours a day say that the treadmills can match the constant demand.
Enjoyable Running Feel
Long-distance runners clock up a lot of miles on the treadmill so it's not surprising that they are some of the most discerning users. Many runners comment that the CLST is a comfortable unit to run on and doesn't aggravate knee or achilles injuries (like other models can). They like the stable and solid feel of the unit as well as the footplant sensation. Runners also appreciate the incline options for uphill training that mimics the outdoors.
Intuitive Interface & Controls
Many people also like that the interface is intuitive to use. They know exactly which buttons control which functions without needing to read a manual or be a computer expert. For others though, the simplicity is actually a flaw. The fact that the console isn't compatible with the latest iPhone models is frustrating for some, but there are other treadmill units that address this particular need.
The responsiveness of the speed controls is a definite positive for people who like it to increase or decrease smoothly (rather than feeling jerky or abrupt). However, some people have said that they'd like it to adjust faster, so it may depend on personal preference or the type of training that you're doing.
Lack of Stand-By Mode
One drawback that some customers have mentioned is the lack of a stand-by mode. They worry that having the display on all the time may wear out the screen and find the LED lights annoying. The machine can be turned off at the wall or using the power switch on the base, but this might not be suitable for some clubs that are open for long durations. Based on feedback from 24-hour clubs customers, this has never been an issue but it may be something you want to consider. Higher-end options with touchscreen consoles usually include a stand-by mode, but they also have a slightly bigger price tag too.
If you're looking for a reliable treadmill that's a joy to run on, then the Life Fitness CLST Integrity is an excellent option. It's a tried and tested model that is highly durable and intuitive to use, which makes it accessible to everyone. Best of all, you get commercial quality at a competitive price, making it one of the best value for money options available.
Ask Us A Question
If you have any questions about commercial treadmills or other types of cardio equipment, then feel free to get in touch using our contact form. Our team of specialists have over 100 years of combined fitness experience and can answer any queries you may have. We'd love to hear from you!