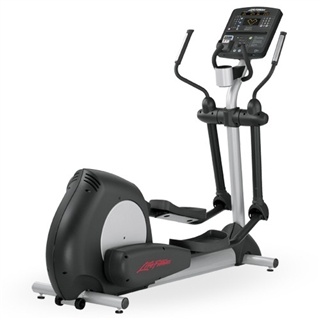 Ellipticals are a gym-floor favorite so it's important to pick the right model for your needs. Life Fitness is well-known for producing commercial-grade fitness equipment that covers the entire spectrum of categories, from treadmills to bikes and strength to functional accessories. The quality of their ellipticals is renowned across the industry, but with such a wide range it can be tricky to know which model to choose.
The CLSX Integrity Series elliptical is an entry-level option that combines quality and affordability into one great value unit. In this article, we review it in detail so that you can decide whether or not it's right for your needs.
Gym Club-Grade Quality
A key theme we hear from many customers is the noticeable commercial-grade quality of these ellipticals. They don't squeak, rarely have mechanical issues (if at all), and last for years. Buying from a leading manufacturer like Life Fitness means that you benefit from well-designed units that are built to withstand the rigors of busy gym studios. You get all of the features you'd expect, including variable resistance options, heart rate tracking, and workout programs. Plus, the peace of mind that comes with buying from a premium manufacturer (without the high-end price tag).
Smooth & Stable
The smooth feel of the CLSX Elliptical is something that really sets it apart from others on the market. This is due both to its stability and the fluidity of its operation. Customers often describe it as 'solid as a rock' since it doesn't wobble at all (unlike less robust brands in the same bracket). The welded frame and robust construction mean that you get to enjoy a super-smooth motion. This also allows it to glide quietly which reduces noise and minimizes possible disturbance to others.
Suits All Shapes & Sizes
A key benefit that you might not immediately realize is that this model suits users of all shapes and sizes. Many customers who are very tall are pleasantly surprised by how well it accommodates their long limbs and how natural the elliptical motion feels to them. It's also loved by people who are trying to lose significant amounts of weight and want a low-impact machine to help them on the journey. The intensity and programming options mean that they're able to torch calories quickly but with a lower rate of perceived exertion (so it doesn't feel as hard). Whether you're a beginner who is just starting an exercise routine or you've been working out consistently for years, this machine has an array of different workout options to suit your needs.
iPhone Compatibility
There aren't many downsides to the CLSX but its lack of iPhone compatibility can be a drawback for some. It doesn't connect with the latest models which means you can't plug your phone into the machine and play music or videos through it. For most people, this isn't a big issue since they just use the iPhone earbuds and rest it on the console, but if you prefer everything to be built-in then you may want to consider an alternative model.
If you're looking for a reliable elliptical that glides smoothly as you work-out, then the Life Fitness CLSX Integrity is a smart option. It's highly durable and suitable for a wide range of different users. Combining commercial quality with an entry-level price tag means you get excellent value for money and a truly enjoyable workout.
Ask Us A Question
If you have any questions about commercial ellipticals or other types of cardio equipment, then feel free to get in touch using our contact form. Our team of specialists have over 100 years of combined fitness experience and can answer any queries you may have. We'd love to hear from you!