Do you have your own spin bike? Or do you own/manage a gym with spin bikes? Either way you can benefit from reading our maintaining your spin bike checklist!
Spin bikes (aka Indoor Cycling Bikes) are one of the most coveted pieces of gym kit around and boy do they get some hammer! Spin classes are usually always full because everyone loves using these wonderful pieces of machinery!
Even better is having a spin bike for home or to have a set for your commercial facility.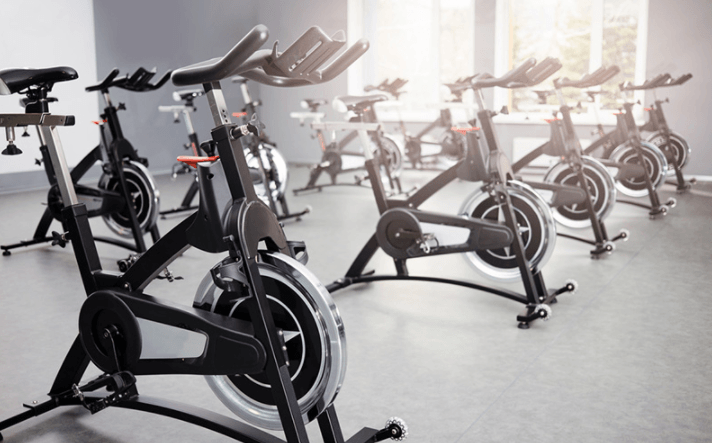 Because they get so much use and abuse, it's very important to ensure they are maintained correctly so they keep performing as they should consistently and  last longer.
So what exactly do you have to do to maintain your spin bike? Use our checklist below and avoid any second-guessing!
Ok, so first thing is first. As soon as you or the gym member gets on the spin bike they look at the handles. The handles will get an awful lot of grip and use so it's important you clean them after every use.
You can clean them with most forms of anti bacterial spray as these are fine, try to ensure whatever you use does have an anti-bacterial, germ killing agent.
They can be a very easy way of transferring bacteria too because remember hands can sweat and aren't always clean!
The seats on spin bikes also need regular checks to ensure they are stable and don't wobble. The material covering the seat needs to be smooth and tear free.
Also ensure you clean the seat with anti-bacterial too, once a week at the very least.
Sit on the spin bike, engage the drive train, and pay attention to any vibrations felt through the pedals.
If vibrations are felt, you will probably need to tighten the pedals, bottom bracket, or adjust the drive chain tension. You should also torque the pedals.
Clean / polish the chrome
Spin bikes can get a little grubby, especially when multiple people use them every day.  At the end of the day or at least once a week you need to devote some attention to giving the bike itself and the chrome a good polish.
Specific chrome polish is always a great idea if your budget stretches to keep the bike nice any shiny, if not a regular polish will do just fine.
Clean/new looking bikes will make you or your gym-goers want to use them more!
Clean the flywheel & hub assembly
Spin bikes don't usually have ordinary wheels, as in the ones you see on ordinary exercise bikes. They have what's called a flywheel, which is a solid disk.
It can be easier for flywheels to pick up dirt with them being a solid unit. They can become dirty and clogged with dust.
Ensure you give the flywheel a good scrub at least once a week and you'll be surprised at what comes off it!
Also ensure you clean the hub assembly thoroughly.
Clean and inspect turbo chain
Check the turbo chain regularly for signs of any wear and tear; also check to see if it needs lubricating or even replacing.
This task only needs doing monthly really but nevertheless it's an important one!
Adjust for proper tension
You need to ensure when you get onto the bike the wheel has enough resistance. If it doesn't then your legs will move extremely fast and wont have anything to push against.  If it's for you or your gym members ensure the resistance is set already to a sensible level, not too tough and not too easy.
Also it's important to test the resistance fully so take it right down and right up to make sure it's working perfectly fine.
Lubricate all moving components & bearings
On a monthly basis it's crucial for the maintenance of the bike you lubricate all moving components and bearings.
First, you should lubricate the drive chain and then lubricate the brake tension rod while inspecting for signs of wear such as missing threads.
Next, you need to clean and lubricate the seat post, handle bar post and seat slider removing any build up of foreign material at the point of insertion.
Also make sure you lubricate all pop-pin assemblies on a regular basis. The aim is for the spin bike to run effortlessly, without any irritating squeaks or tough components.
In order for your spin bike to operate smoothly and efficiently you need to ensure you carry out all the above checks.
Some need to be done daily, some weekly and some monthly. If you keep on top of your spin bike maintenance with the above checklist you will get an awful lot of time out of your bike!