Description
The TR800-DT3 under desk treadmill is the most affordable way to get more out of your standing desk, letting you burn more calories, as well as reducing stress and decreasing back pain. The compact design makes this  treadmill a simple addition to your home office, fitting virtually anywhere. The portable console is small enough to sit discretely on your desktop while still keeping button controls at your fingertips.
Start walking towards better health with the budget-conscious TR800-DT3 standing desk treadmill.
*Standing desk sold separately.
Features
Small Under Desk Treadmill
Reduced footprint of 60.5″ x 26″
Walking belt size of 45″ x 18"
If space is a major concern, this small under desk treadmill is for you. At a mere 60.5″ in length, the TR800-DT3 is the shortest office treadmill on the market. The reduced footprint lets you easily fit the treadmill base into areas of limited space while still supplying enough a large enough walking surface for varying stride lengths. If you plan on establishing a sit-to-stand workstation and need space to fit your under desk treadmill alongside your chair, the TR800-DT3 may be the best choice. It's 2.5" narrower than our other office treadmills and can easily be placed next to your office chair on most five or six-foot standing desks.
Compatible with Any Standing Desk
Reduced profile
Low step-up belt height of 3.75″
Further enhance the benefits of a standing desk by pairing it with a  under desk treadmill. The DT3 portable console and compact TR800 treadmill base guarantee a seemless fit and easy placement under your stand up desk or a standing desk. The treadmill will work with any desk, allowing for a 6.5" gap to accommodate the front of the treadmill. Keep in mind that the treadmill will add an addition 3.75" to your height, so you will want to make sure you desk allows for this addition while still maintaining proper ergonomic heights.
Transport wheels for easy storage
2 Front-mounted transport wheels
Light weight, 96 lbs. treadmill
Dual front-mounted transport wheels allow for easy setup and effortless storage. If your office is limited in space, when not in use, simply roll the treadmill out from under your desk for easy storage.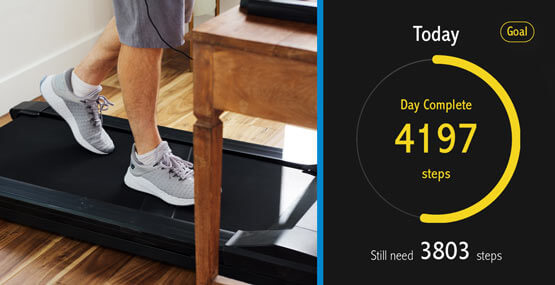 Fully Assembled Out of the Box
No assembly required
Small, portable console
Simple to use
Ready to use in just minutes, the TR800-DT3 is delivered fully-assembled out of the box. Simply roll it into position, plug in the power cord and console connector, and begin walking on your standing desk treadmill. It's that easy.
Specifications
Recommended Use
Light Use (3 hour average daily use)
Dimensions
Treadmill: 60.5″ L x 26″ W x 6.5″ H
Console: 12.5" W x 3" D x 2" H
Console Dimensions
12.5" W x 3" D x 2" H
Step-Up Height
Belt: 3.75″
Side Rails: 4.25″
Belt Size
18" W x 45″ L
Belt Type
2-Ply
Marked Belt
With a motor so quiet, treadmill belt markings help you and coworkers identify when the belt is moving.
Drive Motor
2 HP High Torque Continuous Duty
Speed
0.4 – 4.0 MPH
(Max. Speed Can Be Set to 2.0 MPH if Desired)
Incline
Not Available: Walking at an incline while working is not recommended by ergonomists as it takes your body out of a neutral position and places strain on your back and joints.
Deck Suspension
6 Independent Compression Shocks
Deck
3/4″ Phenolic Deck
Side Rails
Non-Slip Plastic
Transport
Treadmill has 2 front-mounted transport wheels for easy mobility.
Max. User Weight
215 lbs.
Average Amp Draw
3.05 Amps (200 lb. user @ 2 mph)
Product Weight
Treadmill: 96 lbs.
Console: 3 lbs.
Safety Certifications
Console: FCC and CE Certified
Shipping Dimensions
Single Box: 64″ L x 30″ W x 9″ H
Assembly
No Assembly Required
Warranty
Frame: Lifetime
Motor: 3 Years
Parts: 1 Year
Labor: 1 Year
Console
| | |
| --- | --- |
| Display | Red LED display is easy to read even when positioned at an angle. Use the mode button to select which readout you want to view. |
| Console Readouts | Distance traveled, calories burned, time, step count and belt speed |
| Personal Settings | Tailor the treadmill desk to meet your needs. Set your preferred maximum speed to either 2.0 or 4.0 MPH, silence beeps and alerts, resume previous speed, switch units of measure, and more. |
| | |
| --- | --- |
| Intelli-Step™ | Step counting feature works like a pedometer and counts your steps while you walk. |
| Intelli-Guard™ | Your safety is important to us. Intelli-Guard automatically pauses the walking belt when you step off. |
| USB Charging Ports | 1 USB charging port to charge your wireless mobile devices. |