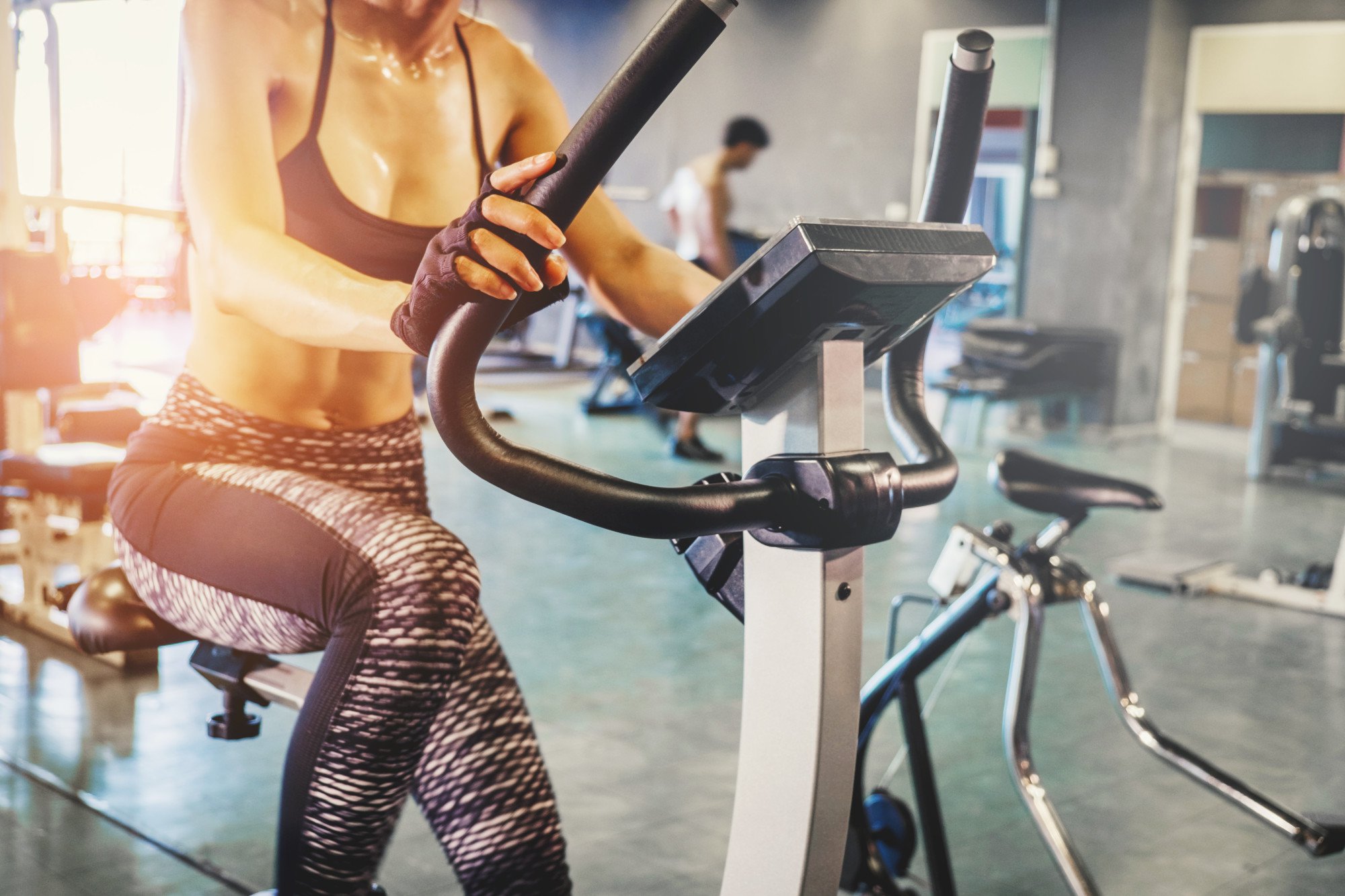 Exercise bikes are do-it-all peice of equipment.  They're convenient to use, easy to store, and beginner-friendly. You can enjoy working out whenever and at the comfort of your own home.
You may feel overwhelmed by the options when you begin to shop for your exercise bike. Which style will benefit your lifestyle and fitness goals the most? Should you go for a standing bike or recumbent bike?
Even fitness professionals need to do their own research. Lucky for you, we've created this quick guide to help you buy a commercial upright bike.
Upright Exercise Bikes
This style of exercise bike is very similar to riding a road bike because it keeps you in a conventional riding position.
Designed for seated cycling the bike has a typical bike seat with no back support and offers handlebars. Most upright exercise bikes also have front screen displays where you can monitor your heartbeat, calorie loss, or miles ridden.
This design makes this bike great for beginner riders. The upright bike offers a comfortable workout opposed to high-intensity training.
This bike is not ideal for people suffering from back/neck problems or elderly people who may have a difficult time balancing due to the lack of seat support.
You have to use your arms to balance on an upright exercise bike causing you to get a more equal workout overall opposed to different bike designs which make only work out your lower half.
Recumbent Bikes
Recumbent bikes are a little different than the normal upright exercise bikes. The seat is almost in line with the pedals, so the rider is in a low, seated position.
Since the rider has more back support this bike is one of the more comfortable workouts. Recumbent bikes are ideal for the elderly or people suffering from back or neck pain.
Recumbent bikes offer handlebars either out in front of the rider or on the side of the chair. Most models also offer the same display screen and many offer built-in workout programs.
This design doesn't offer a very intense workout and isn't very diverse of a ride but it does provide a great leg work out and great cardio- two things necessary for any good workout.
When you're looking to buy a recumbent bike look for all of the same features you would look for if it was an upright bike: clear display, adjustable seating, and a heartbeat monitor!
These technologies can differentiate a good exercise bike from a great exercise bike.
Indoor Cycle Bikes
Indoor cycling bikes are the most similar to actual cycling. They offer very little features but indoor cycling bikes offer a diverse workout.
These bikes designs offer a high-seat almost level with the handlebars, this allows the rider to either stand or sit. You can stand for a high-intensity workout, or sit for a less intense one.
This type of exercise bike will give you the closest sensation to riding an actual bike. They have a mechanism that adds resistance to the pedals to mimic ride on a road.
Looking at an indoor cycling bike may have you wondering, isn't this just an upright exercise bike? They may look identical but the resistance mechanism inside the indoor cycle bike is what makes them different.
Upright or recumbent bikes have an electromagnet induction for resistance, making it an easier ride. The indoor cycling bike is great if you're searching for that victory feeling after cycling, but don't exactly have time for a bike ride.
These bikes are also great for anyone looking to burn calories faster. They are also the best choice for cyclers during the off-season, when weather may prevent outdoor cycling.
Other Features You Might Love
Every version of each exercise bike will come in two versions: manual, and electric. A version which requires physical labor to work, and a version with electric sensors inside.
Each version is efficient for working out but dependent on your current fitness and goals, one version may be better than the other for you personally.
The electric exercise bikes will have features like an electronic display, as where the manual bikes do not. Manual bikes are typically on the cheaper end when compared.
Electricity isn't the only bike feature out there, though! Luxury seats, water bottle holders, smartphone docks, and more are all features readily available on some exercise bikes.
If comfort is important to you, shop in person. Try out different seats and see which one is better for you specifically, you're going to need a comfortable seat if you're going to be riding regularly.
Some models even go as far as including built-in fans!
Buying A Commercial Upright Bike
We do our best work when we enjoy what we're doing and that's with anything, including working out! Use our guide to help you find a commercial upright bike best fit for your workout needs, fitness goals, and physical limitations.
Whether you are looking for a simple cardio route, a quick leg workout, or some high-intensity training there's an exercise bike out there for you. Determining what you want and need is the first step in finding the perfect bike.
You will use your bike the most if it is easy to set up, comfortable to use, and fun to use. Choose an exercise bike with all the features you want, you deserve a customized ride.
At the end of the day, the bike is there to benefit you, get all you can out of it.
Explore our site for more workout equipment, advice, and insights.