Purchasing commercial treadmills can sometimes feel overwhelming. With so much choice, it can be hard to decide exactly which one is right for your needs. Should you go for a touchscreen model or LED display? Does it matter which horsepower motor you choose? Do you need to purchase an extended warranty or service agreement too? So, to make things simple, we've put together this short guide to the best commercial treadmills for gyms in 2018…
What to Look for in Commercial Treadmills
There's an astounding range of commercial treadmills on the market, so it's worth doing your research before investing. There are lots of factors to consider and no 'one size fits all' solution. Depending on the type of facility you run, demographics of your members, and technical expertise of your team, your treadmill needs will vary.
Reliability and price are usually the highest priorities for most gym operators. Choosing a trustworthy brand with a strong reputation for reliability (such as Life Fitness or Precor) will help you avoid unwanted maintenance costs down the road. Better reliability usually comes with a slightly higher price tag, but you'll spend less on repairs and spare parts over the long term. This usually makes the total cost of ownership lower than an entry-grade treadmill. If you do go for a cheaper option, then find out which parts need replacing most often, and factor their cost into your budgeting.
Product features will also play a key role in the purchasing decision. The best commercial grade treadmills will come with pre-set workout programs and entertainment options (like tv, internet, or mobile app connectivity). When deciding which features are most important to you, it's helpful to consider which ones your members will value. A stand-out feature (such as Netflix integration or personalized programming) can also impress potential new members during club tours, giving you an extra edge in terms of membership sales.
Here are some brief treadmill reviews for the six best commercial options on the market this year…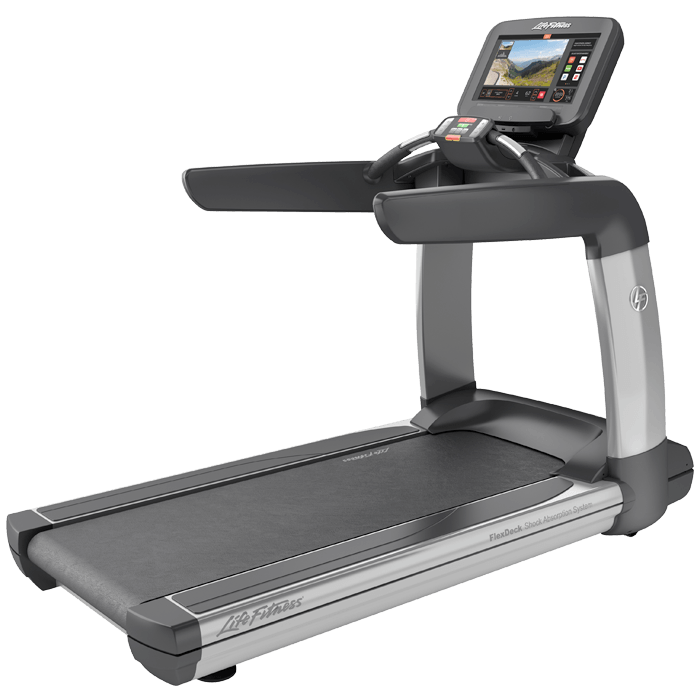 Life Fitness are renowned for their expertise when it comes to treadmill design. Their FlexDeck technology and smooth motion create an outstanding indoor running experience. The Elevation series treadmill with Discover SE console is a premium piece of equipment with excellent reliability.
The maximum speed of 14mph (23kph) should be enough to keep even the fastest of sprinters content and provides great flexibility for interval training. Built-in heart-rate telemetry allows for accurate HR monitoring, whilst details like cup holders and an accessories tray make it a practical equipment option. The 19" touchscreen includes internet connectivity (both wired and wireless) which allows for website browsing, video streaming, or usage of apps like Netflix and ESPN.
The TRM 885 is Precor's top-of-the-range treadmill model. Like the Life Fitness SE, it features a robust base and touch screen console. This treadmill is capable of top speeds of 16mph (25.5kph) and features both incline and decline to mimic real-world hill running. Their patented Ground Effects technology means the belt is more cushioned nearer the front (where the feet land) and harder towards the back (to provide stability for pushing off).
The touchscreen console features an ergonomic design at optimal head height and 27 pre-set workout programs. Connecting it to the internet enables website browsing, video streaming, and remote servicing capabilities. The home screen also features an ever-changing 'workout of the day' to encourage members to try new programs and add variety to their routine.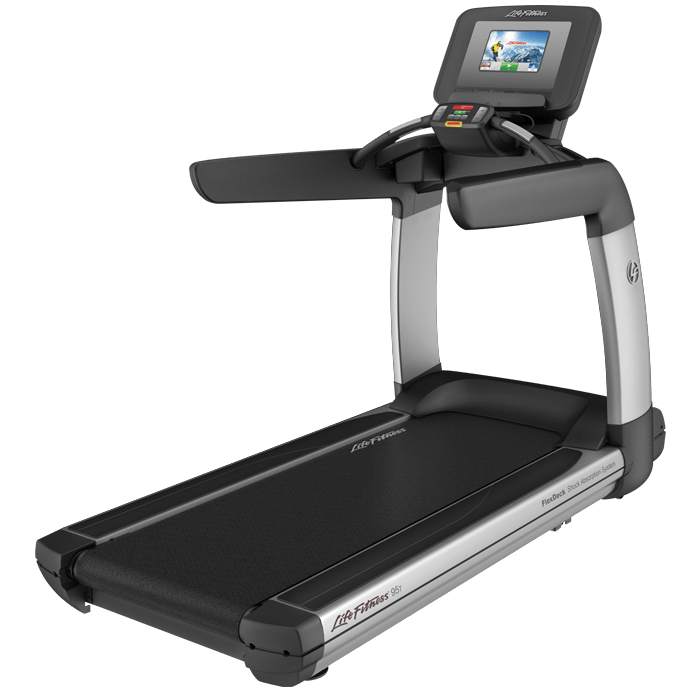 As part of the Elevation series, this treadmill features the same dependable base at the previous Life Fitness model. This means you get the maximum running speed of 14mph, heart rate telemetry, and practical storage features as the SE. However, it features a different console which makes it a cheaper option for those with a smaller budget.
The 10" SI console has a smaller touch screen area and only connects with limited apps (currently Solitaire and Flipboard). However, you do still get the same number of pre-set workouts (42) and wired connectivity allowing internet browsing. Like the SE, it also features Lifescape interactive courses which allow exercisers to experience running routes from around the world.
The Excite 900 features a sleek design, making it ideal for health clubs where the interior decor is particularly important. Technogym products are gaining popularity in the US but have been a staple of European health clubs for many years. Their reliability is on par with Life Fitness and Precor, yet there are some key aspects of the design that set them apart.
In addition to the stylish aesthetics, Technogym treadmills provide a natural running experience with shock absorption to protect the joints. The unique joystick control enables exercisers to easily adjust speed or incline on the go. With 14 workout programs and multiple fitness tests, there's plenty to keep a wide range of members entertained.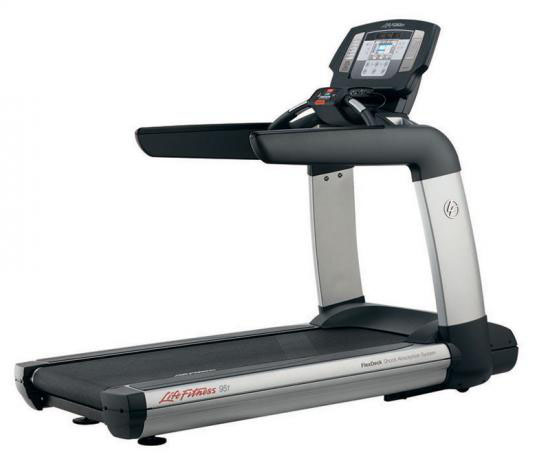 The 95T professional treadmill is a cost-effective option that's both sturdy and robust. Although it features a different base to the Elevate series, it still includes FlexDeck technology to maximize shock absorption during running.
A small touchscreen is surrounded by additional controls, making it quick and easy to change workout preferences. With 33 pre-set programs, users can enjoy a wide range of workouts including the Marine PFT, Kilimanjaro, and usual interval, fat-burning, and manual options.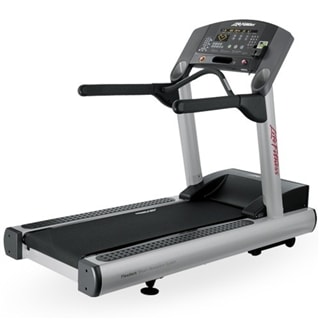 The Integrity series CLST is consistently one of our best-buy commercial treadmills. The durable design and high-quality parts mean it's a reliable model that can withstand the rigors of a busy gym environment. It may not be as 'pretty' on the outside, but this model can match any of the others on our list in terms of reliability and practicality.
The large, LED console provides key workout metrics, adjustment options, and built-in storage too. Although it doesn't include the same level of entertainment options or connectivity as other models, the streamlined nature of the console helps to keep its costs down. This makes it one of the most competitively priced commercial treadmills available.
We can Help Make the Right Choice!
If you're looking at the different commercial treadmills for sale and aren't sure which to choose, then our knowledgeable team are here to help. They can advise you on which option will best suit your specific needs and answer any additional questions you may have. Get in touch here.