Commercial Gym Equipment


Gym Pros has been in the fitness industry offering commercial gym equipment packages for over 2 decades. We have outfit several top of the line commercial facilities with our new and used gym equipment. There are several different levels to choose from depending on your facilities custom needs featuring the best brands in strength and cardio.
Commercial Fitness Equipment Service Levels
Call us today to make an inquiry on our inventory. We are getting new deals every week and have a more fluid inventory than what we show on our website. Our commercial gym equipment is available in a few different tiers:
Used Gym Equipment:This equipment has been used in a facility. Many times we are getting the equipment from a center where it has gotten limited use. Even if that is the case, any equipment that is shipped from our facility goes through a 38 point inspection first. From the motor of a treadmill to the grips and console, we ensure your equipment is serviced and delivered at the highest of standards. Used Gym Equipment packages are fluid in our inventory so call to see what is currently available.
Refurbished Gym Equipment:Similar to what you read above, refurbished commercial gym equipment has undergone a detailed process so that you are getting a like-new unit. When a used unit has been purchased, our team will go through the 38 point inspection to assess all parts of the unit, ensuring that they have a rating of 8 or above.
Brand New Gym Equipment: This really does not require much of an explanation. New is a very safe way to go and sometimes the only way you can do it. We have the ability to get almost any units completely brand new as well as offering Brands outside of the big names that deliver an amazing value.
Popular Commercial Gym Equipment

Commercial Gym Packages
When looking for cardio and strength commercial fitness equipment, there are several choices to make. Do you want new or used, light commercial or commercial, Treadmills or Ellipticals, Precor or Life Fitness? Our cardio and strength series pack a serious punch where we have some of the best inventory the market has to offer. Brands like Stairmaster and Hammer Strength have relied on Gym Pros as a preferred retailer and wholesale distributor to deliver both high-end fitness equipment as well as great warranty and service agreements.
Our Commercial Fitness Equipment Packages can be brand specific or mix and matched due to the square footage of your facility. These gym packages can be catered to anyone from a 500 to 100,000 square feet of space! By purchasing in high quantity (and all from one place) you receive massive discounts on shipping as well as a per unit cost. We also offer international shipping and financing on gym packages whether you are ordering 3 or 100 units. Here are some specific brand examples for smaller facilities but as they scale, shipping costs will go down as will MSRP discounts.
Precor Gym Equipment Packages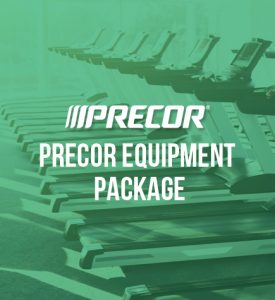 If you are looking to outfit a center you can choose one of our designated packages such as that from Precor. The Precor Equipment Package Features their top-selling models of Treadmill, Elliptical and Adaptive Motion Trainers.
Precor is most well known for their innovative elliptical technology that made the running motion viable again to those that were forbidden by their doctors to ever think about the motion. They had such great success with the original Precor EFX 544 that they quickly branched out to several different variations of their product which then got into a more robust ramp as well as upper body motion to fully engage the core all with zero impact.
Die Hard Gym Aficionados love the Precor look and feel and there are fewer companies more trusted than Precor in the gym equipment industry.SHOP PRECOR NOW
Star Trac Commercial Gym Equipment Package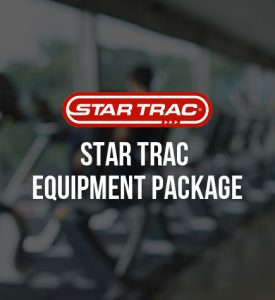 Star Trac Health & Fitness was formerly known as Flex Fitness and changed it's name after being acquired by Star Trac UK Ltd. The company is based in Irvine, California and was founded in 1979.
Star Trac has a strikingly adapt name as the equipment truly does have a space aged look and feel. Most of the equipment has fans as well (built in ventilation) and these E-Series models have truly stood the test of time.
This commercial gym equipment pairs well with one of our functional trainers or plate loaded free-weight setups.
Life Fitness Gym Packages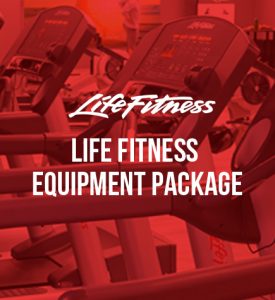 If you want some of the most coveted, strong and smooth appearing commercial fitness equipment available, look no further than one of these gym packages from Life Fitness. These are mixed and matched with their most popular treadmills, cross trainers (ellipticals) and exercise
Life Fitness has consistently been one of the most premium commercial gym equipment brands in the fitness industry. They revolutionized exercise with their LifeCycle Upright and Recumbent Commercial Bike 40+ Years ago.
Over the years, Life Fitness has consistently been one of the top three manufacturers for whatever product they were selling be-it Treadmills, Ellipticals, Etc. Life Fitness recently acquired Hammer Strength as well filling out the strength side of their fitness equipment packages. SHOP LIFE FITNESS NOW
Why Gym Pros for Commercial Gym Packages?
Our commercial gym equipment packages include top fitness brands like Precor, Life Fitness, Stair Master, BH Fitness, Matrix and Hammer Strength. We also offer specific gym packages for condominiums, hotels, and health clubs including fitness equipment like treadmills, ellipticals, exercise bikes and strengthh machines. We provide a wide range of equipment and pride ourselves at having the best customer service in the United States.
Over the last 2 decades, we have built a large network and are well known in the industry for getting the best deals on our commercial gym equipment packages including both strength and cardio, passing the savings to our clients. When you buy in quantities of 5 units or greater, we are able to be even more aggressive and also save on shipping costs. Call our friendly staff today at 888-502-2348 for design assistance and getting the right gym package for your center.
Customer Reviews