Gym Pros has been in the fitness industry offering commercial gym equipment packages for over 2 decades. We have outfit several top of the line commercial facilities with our new and used gym equipment. There are several different levels to choose from depending on your facilities custom needs featuring the best brands in strength and cardio.
Our commercial gym equipment packages include top fitness brands like Precor, Life Fitness, Stair Master, BH Fitness and Hammer Strength. We also offer specific gym packages for condominiums, hotels and fitness studios including fitness equipment like treadmills, ellipticals, exercise bikes and strength equipment.  Over the last 2 decades, we have built a large network and are well known in the industry for getting the best deals on our commercial gym equipment packages including both strength and cardio, passing the savings to our clients. When you buy in quantities of 5 units or greater, we are able to be even more aggressive and also save on shipping costs.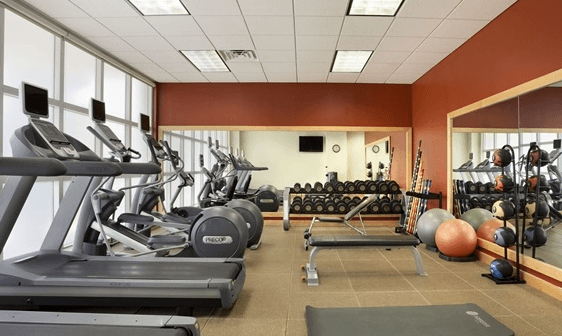 Commercial Gym Equipment Packages Availability
Call us today to make an inquiry on our inventory. We are getting new deals every week and have a more fluid inventory than what we show on our website. Our commercial gym equipment packages come in a few different tiers:
• Used Gym Equipment: This equipment has been used in a facility. Many times we are getting the equipment from a center where it has gotten limited use. Even if that is the case, any equipment that is shipped from our facility goes through a 38 point inspection first. From the motor of a treadmill to the grips and console, we ensure your equipment is serviced and delivered at the highest of standards.  Used Gym Equipment packages are fluid in our inventory so call to see what is currently available.
• Refurbished Gym Equipment: Similar to what you read above, refurbished gym equipment has undergone a detailed process so that you are getting a like-new unit. When a used unit has been purchased, our team will go through the 38 point inspection to assess all parts of the unit, ensuring that they have a rating of 8 or above.
• Brand New Gym Equipment: This really does not require much of an explanation. New is a very safe way to go and sometimes the only way you can do it. We have the ability to get almost any units completely brand new as well as offering Brands outside of the big names that deliver an amazing value.
Commercial Cardio Equipment
When looking for cardio equipment there are several choices to make. Do you want new or used, light commercial or commercial, Treadmills or Ellipticals, Precor or Life Fitness? Our cardio equipment packs a punch and we have some of the best inventory the market has to offer. Brands like Stairmaster and Hammer Strength have relied on Gym Pros as a preferred retailer and wholesale distributor to deliver both high-end fitness equipment as well as great warranty and service agreements.

Commercial Strength Equipment
Strength Equipment is an often overlooked and often over-priced piece of the puzzle for several facilities. Many fitness centers will source the cardio pieces to get a great deal but struggle with finding good quality and great prices when it comes to commercial strength equipment. Our used commercial gym equipment packages come from centers with little to no usage. Inventory on used strength equipment is fluid as we have several fitness centers and hotels that use Gym Pros as their one and only resource for all locations.

Customer Reviews
Excellent!!
As the owner of 4 fitness centers in the greater Orlando area, I've had a lot of options and worked with a lot of vendors to get my centers set up and up to date. I came across Gym Pros about 7 years ago and have been using them to set up my centers. I'll occasionally call Roy just to check in on what new units he has available as our membership grows.
– Tim Sivers
Five Stars is Not Enough Stars!
I purchased 4 units from Gym Pros – All great high-end commercial equipment from Precor & Life Fitness. Setting up my studio was not the strain that I hear other trainers complaining about. My setup is in Houston, TX and the equipment gets used about 5-6 hours a day on average. The equipment took about 3 weeks to arrive and I just used the standard LTL freight to get it here the fastest.
– Terry McCann
The Best Gym Packages
We are one of the larger fitness franchises here in SoCal and did a large expansion in 2017 to include a spinning studio. I actually came across Gym Pros when I purchased a Precor Elliptical a few years back and the service and quality certainly stuck out in my mind. Luckily they are still doing what they do best and I got what I consider a smoking deal on my set of 20 bikes. We get nice comments from our clientele mentioning how they like our setup better than Soul Cycle which is a huge compliment AND we got such a great bulk discount we became much more profitable a lot faster. Huge Thank you guys!
– Craig Beaty
A+ Service
I ordered 5 stepmills and 6 life fitness bikes from these guys out of necessity as our previous vendor was out of stock (and kept pushing us off). These guys delivered our equipment with a stellar turnaround. Great work on the refurbishing, all the electronics have still not needed service (4 months later) and if we need service they are responsive and helpful.
– Ronnie Evans
Commercial Fitness Equipment Kings
I own 2 gyms and I trust these guys with all of my commercial gym equipment. This actually all started with a set of 5-50 dumbbells, a treadmill and a bike for my own personal training business 3 years ago. I've tried about 6 vendors total for various parts of the business (flooring, circuits, cardio, etc) and these guys stand out. They put together some great custom gym packages and I don't have to spend all my time negotiating on the price. Thanks to Doug and Brie for always being responsive to my calls and emails, it makes a huge difference.
– Stan Bennet
Life Long Client
When it comes to the big 5 commercial gym brands I don't trust anyone else to get the job done right. Big thanks to you guys for doing what's best for the customer always. After 7 orders (100 units) over the last 2 years, I can definitely be a reference and happy to talk to any other gym owner looking to get your high-end gym equipment.
– Tom Lombardi