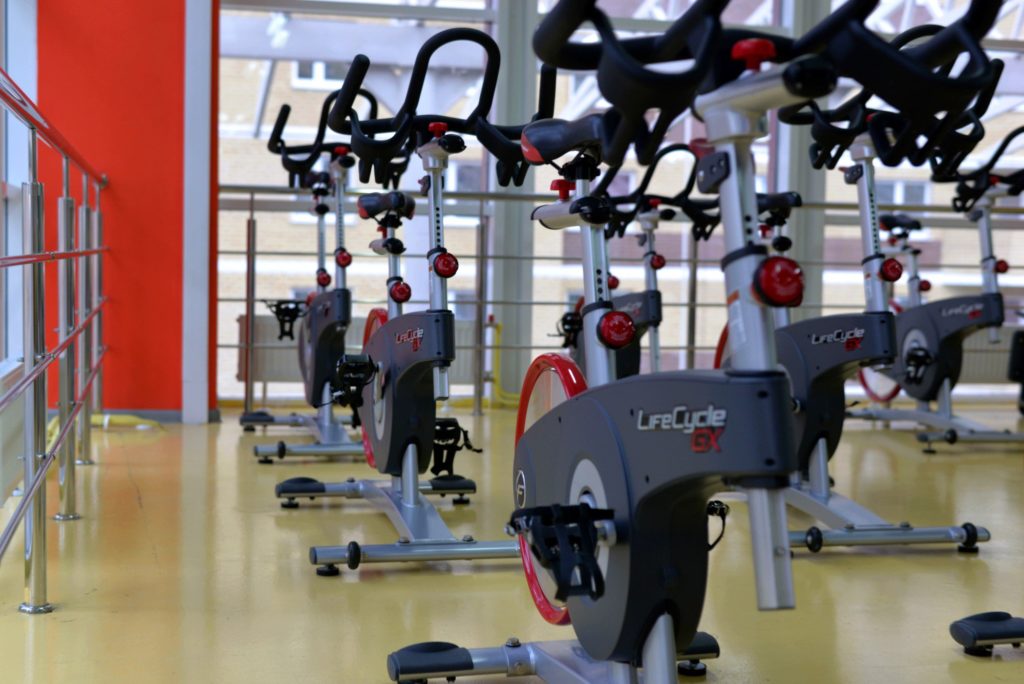 Many of us loved riding bikes as kids, but did we realize that it was an actual form of exercise? Probably not.
That's because it was enjoyable. We had fun doing it!
Cycling is an exercise that's enjoyed by all age groups and experience levels. It's an excellent activity for improving strength and endurance. Plus, it raises your heart rate so you can burn more calories. It's one of the best ways to stay active.
Are you interested in getting fit by biking, but can't stand the thought of battling the summer sun?
You can look forward to exercising again by investing in indoor cycling! Keep reading to learn more.
Why Indoor Cycling Is a Smart Alternative
Indoor cycling first became a craze in group-fitness environments, where patrons cycle together on stationary bikes.
Indoor cycling classes have you focus on varying speed and resistance throughout your workout to build endurance and intensity. Usually, there is an enthusiastic instructor and loud music to keep you motivated.
The classes typically give riders the experience of riding a bike through natural environments. During an indoor cycling workout, you'll switch from uphill climbing, easy paddling, and sprints with brief recovery periods in between.
There are several reasons to choose to invest in indoor cycling, rather than choosing to bike outdoors.
Minimal Impact
Indoor cycling offers an impressive, high-intensity cardiovascular workout without making you risk your hips, knees, and ankles.
Low-impact workouts are excellent for people who are new to exercise. They are also beneficial to those recovering from an injury or have limited mobility. You can also use cycling as light exercise on your rest days.
If you're an experienced athlete, you should consider adding cycling to your routine. Low-impact exercise helps build strength and mobility around your joints. This protects them better during high-impact workouts, which means you recover faster.
Lower Stress Levels and Anxiety
Many of us use exercise as a way to lower stress.
When we exercise, we release a hormone called cortisol in addition to feel-good endorphins. Cortisol is what produces stress.
Lower levels of cortisol lead to a healthier immune system. Simply put: you'll feel better.
The benefits of indoor cycling cater to people who suffer from depression and anxiety. The repetitive action associated with cycling increases mindfulness, which directly suppresses negative thoughts.
Mind-Body Connection
Speaking of mindfulness, cycling is known for connecting the mind and body.
Our minds need a break from the constant stimulation of screens. Cycling creates an atmosphere that enables the mind-body connection by forcing us to feel our bodies hard at work.
Indoor bikes have the ability to simulate different rides and terrain conditions. Regardless of the type of workout you're looking for, there is a combination of settings that will work for you.
Build Muscular Endurance
Cycling enables you to increase the endurance of your leg muscles such as quadriceps, hamstrings, and calf muscles.
When you build muscle, you are also strengthening the tendons, bones, and ligaments surrounding them. This increases your overall strength.
Choose indoor cycling and before you know it, you will be performing everyday activities with ease.
Improve Your Cardiovascular Health
Do you know how important heart health is to your overall health?
Heart disease and stroke are the two leading causes of death in the United States. While certain groups of people are at higher risk, cardiovascular disease affects people of all ages, races, and backgrounds.
Decrease your risk of cardiovascular disease by incorporating indoor cycling into your fitness routine.
If you are a healthy adult, the American College of Sports Medicine and the U.S. Department of Health and Human Services says you should be getting at least 30 minutes of moderate cardio exercise most days (or 150 minutes per week).
Cycling at home can help lower your risk of coronary artery disease by keeping your heart rate at a steady, vigorous range each time you exercise.
Convenience
Having your own indoor cycling setup at home can save you some serious money by eliminating the need for a gym membership. Aside from the equipment, all you need is a plan and a playlist.
It's also really nice being able to hop out of bed and bike first thing in the morning if you want to.
Outdoor cycling can be a logistical nightmare. First, you have to check the weather and dress appropriately. Second, you have to worry about flat tires, avoiding vehicles, and paying attention to traffic.
These are things you won't have to worry about when cycling at home.
If you're concerned about planning your workouts or losing motivation, you can use your mobile device or tablet to stream indoor cycling workouts offered by several providers.
Safe During Pregnancy
Indoor biking is a smart option for you if you are pregnant.
During pregnancy, it's important not to stress your joints. The smooth movements of indoor cycling allow you to get a good workout with the low-impact benefits we went over earlier.
Plus, indoor cycling is generally safer than biking outside. As your belly grows, your center of gravity will shift. You don't want to worry about falling off your bike!
Is Indoor Cycling for You?
Now that you know the positive impacts indoor cycling will have on your fitness routine, it's time to explore your options.
You don't have to join an expensive gym and get up early to enjoy one of the best cardiovascular activities. Consider purchasing your own machine to set up in the comfort of your home.
There are several different styles available, so you should spend time comparing benefits and their specific uses before you decide which one is for you.
We only sell the highest-quality fitness equipment and have a massive selection of spin bikes for sale. We can't wait to offer you the great advice and quality equipment you need to build your dream home gym!
If you need assistance making a decision, get in touch with our friendly team of professionals. They have over 80 years in combined in-depth experience of exercise and fitness products. Trust us, they will be able to answer your questions.
Forget the heat and exercise in the AC! Simply pay us a visit, call, or email us today.